Jungling
编辑
It should be noted however that

 Trundle

is very much reliant on specific jungling masteries and runes in order to support that style of play. Jungle should only be taken if conditions are favorable.

Starting items:
, x5 OR
Skill progression: Rabid Bite Rabid Bite → Contaminate → Pillar of Filth Pillar of Filth
Recommended Runes: Armor Penetration Marks, Armor Seals, Personal Preference Glyphs, Attack Damage Quintessences
Jungling order: Wolves → Blue Golem (Smite) → Wraiths → Wolves → Red Lizard (Smite) → Golems → Gank*
 Trundle's strengths in the jungle are his sustain with Decompose and his ability to invade the enemy jungle as he can duel most AD champions favorably with his Rabid Bite Rabid Bite and he easily escape with Contaminate and Pillar of Filth Pillar of Filth.
 Trundle

is pretty

mana dependent and will need either Crest of the Ancient Golem or

s for a second jungle clear.

 Trundle can gank at level 2 (really just showing his face to make them waste Flash) but he needs all of his abilities ( Contaminate

and

Pillar of Filth Pillar of Filth

are critical so level 3 at the earliest) in order to gank effectively so he is pretty much stuck in his jungle route, no shortcuts should be taken.

 Trundle is able to solo 20px Dragon as early as level 6 with a and a few s. Care must be taken, as Contaminate is favorable to help kill 20px Dragon but may also alert enemies to your presence. Some mana regeneration like s or Crest of the Ancient Golem and damage over time from Blessing of the Lizard Elder is also advisable. Agony can help speed up the process but might be wasted if taking 20px Dragon is not accomplished.
官方推荐出装
编辑
Classic's




推荐物品

 
 
 
 
 
 

Dominion's




推荐物品

 
 
 
 
 
 
Runes and Masteries
编辑
对抗此英雄
编辑
Champion spotlight
编辑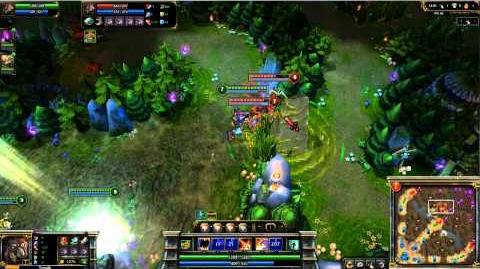 您使用了广告屏蔽软件!
Wikia通过广告运营为用户提供免费的服务。我们对用户通过嵌入广告屏蔽软件访问网站进行了使用调整。

如果您使用了广告屏蔽软件,将无法使用我们的服务。请您移除广告屏蔽软件,以确保页面正常加载。