A  Jarvan IV player should consider an early stacking of attack damage to ensure lane-dominance.
The armor reduction of Dragon Strike makes the physical damage of  Jarvan IV synergize very well with flat armor penetration.
provides key offensive stats at a cheap price.
It is recommended that building half tank and attack damage is much better than any other build choice.
 Jarvan IV is a Tanky-DPS, benefiting from , or later .
If your enemy keeps running away from you, consider buying a
to get a stronger slow.
Golden Aegis, Jarvan can be a great AoE debuffer.
is a good item for Jarvan IV, along with his
Since  Jarvan IV already gets attack speed from his Demacian Standard and has high AD ratios on his skills, is a strong item when jungling.
If  Jarvan IV builds , and he will gain a lot of armor and Damage. The high scaling on his Dragon Strike and Cataclysm will give him a good amount of burst, making him a strong anticarry with these items.
Jungling
编辑
官方推荐出装
编辑
Classic's




推荐物品

 
 
 
 
 
 

Dominion's




推荐物品

 
 
 
 
 
 
对抗此英雄
编辑
When engaging  Jarvan IV, be careful because he has a high endurance due to his Golden Aegis and Demacian Standard.
When facing  Jarvan IV, remember that stacking health increases Martial Cadence damage out on you.
 Jarvan IV has a strong early game. Be careful when playing aggressively when laning against him.
A combo of Cataclysm, Dragon Strike and Demacian Standard will prevent you from chasing him.

For this reason, wait until his Cataclysm is on cooldown before engaging him.

The ring of Cataclysm can be escaped from by virtually every dash in the game. Having one off cooldown can quickly nullify the value of the ring.
Do not underestimate  Jarvan's 1v1 potential. His damage output and his Cataclysm make him a dangerous fighter.

Be even more careful of him with his allies about. His abilities have a multitude of utility effects that can let his team win against yours easily even if you personally are able of fighting  Jarvan's 1v1.

While  Jarvan's knock-up is threatening, do remember that it relies on his Demacian Standard, which is on a 13 second cooldown. If you can get away from the flag, he won't be able to knock you up again.
Scatter around before engaging a team with  Jarvan, it will make his ultimate less effective when he can only trap one person.
Take great notice of  Jarvan's team. If it consists of heavy AoE ( Morgana,  Brand,  Fiddlesticks,  Malphite, etc.) then consider fighting the enemy on your grounds than theirs, or, if possible, eliminate  Jarvan before the team fight starts to make their ultimates less effective.
Due to the great utility of  Jarvan, he can participate in a "kill lane" (a lane where the aim is killing the enemy, generally two bruisers against a support/AD carry in bottom lane: popular duo is  Jarvan +  Leona). If you see such a setup, consider using  Alistar or other non-ultimate disruptive supports to stop the kill lane's success. (based on personal experience).
Using a silence on  Jarvan will stop him from dashing to you, or even casting his ultimate. You might want to save your silences for that. Even better, sometimes the ultimate is used to do damage and crumble the wall. A silence will prevent him from crumbling the wall, making quick work of him in a bad position.
Attempt and avoid basic attack harassment by Jarvan. Due to his passive, it will almost double his basic attack's damage in early levels, making you generally unable to pay it back and leading to low health.
Champion Spotlight
编辑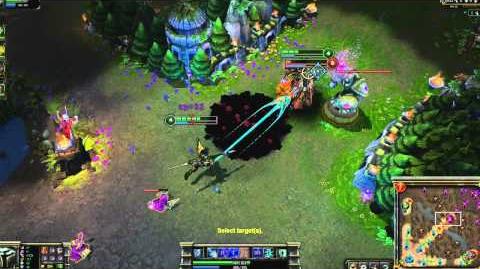 您使用了广告屏蔽软件!
Wikia通过广告运营为用户提供免费的服务。我们对用户通过嵌入广告屏蔽软件访问网站进行了使用调整。

如果您使用了广告屏蔽软件,将无法使用我们的服务。请您移除广告屏蔽软件,以确保页面正常加载。